UK employers indicate hiring confidence remains positive for every sector in the fourth quarter 2023, with a slight decrease of two percentage-points since last quarter to +27%, according to the latest ManpowerGroup Employment Outlook Survey (MEOS).
MEOS is based on responses from 2,030 UK employers and asks if they intend to hire additional workers, maintain current headcount, or reduce the size of their workforce in the coming quarter (October to December 2023). It is the most comprehensive, forward-looking employment survey of its kind and is used as a key economic indicator by both the Bank of England and UK Government.
"Organisations are presently engaged in a game of 'talent Tetris', where they're having to make careful but quick decisions about who to hire, which skills gaps to prioritise and what hiring costs to hold back on until the wider economic situation improves", says Chris Gray, Director, ManpowerGroup UK. "Employers need to move faster – turning the positive hiring intentions into actions and tangible decisions around recruiting and upskilling – is going to be the best way to address skills and productivity gaps and avoid potential stagnation."
"Businesses have had to navigate high inflation, industrial action, and broader changes in employee demands over the course of this year and looking ahead to the last quarter these factors are all adding more pressure to make the right hiring choices. Employers are behaving and thinking differently in order to 'win the game.' Nearly half (47%) of all UK employers believe work-life balance is the most important driver of increased workforce productivity. At the same time, around a quarter (24%) are more willing to recruit those who don't meet all technical skills requirements."
The latest MEOS survey shows that UK employers are widening their talent pools to respond to skills shortages. More than a third (36%) say they are willing to hire older applicants who are seeking new employment or a change in their careers. A quarter (25%) say they have been more willing to hire candidates who have been unemployed due to caregiving responsibilities, with a similar amount (23%) more willing to hire long-term unemployed applicants.
​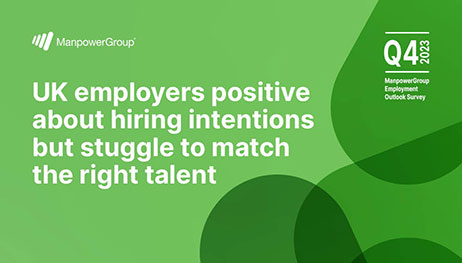 ManpowerGroup Employment Outlook Survey Report