The ManpowerGroup Employment Outlook Survey for the fourth quarter 2020 was conducted by interviewing a representative sample of 1,258 employers in the UK.
All survey participants were asked, "How do you anticipate total employment at your location to change in the three months to the end of December 2020 as compared to the current quarter?"
Interviewing was carried out during the exceptional circumstances of the COVID-19 outbreak. The survey findings for the fourth quarter of 2020 are likely to reflect the impact of the global health emergency, and may be notably different to previous quarters.
The survey results for this quarter report that:
UK jobs Outlook for Q4 2020 at -8%, up 4 points from last quarter's 28-year low

Early signs of twin-track recovery as construction, finance and manufacturing all rise sharply while retail and hospitality are unmoved

Two-thirds of employers to overhaul workplace policies on remote working, flexi-time and new skills.
COVID-19 continues to weigh heavy on the UK employment market but there are clear signs of improvement in the final quarter of 2020, according to the latest ManpowerGroup Employment Outlook Survey. While the Q4 UK Employment Outlook is -8% – a near-historic low – new data reveals a 4-point lift compared to the previous quarter. As lockdown eases and employers embrace new ways of working, the uptick is driven by stronger hiring intentions in utilities and agriculture as well positive momentum in several other key sectors.
Mark Cahill, Managing Director, ManpowerGroup UK says: "The headline number illustrates just how tough the labour market is currently. This is still the second weakest Outlook we've seen since 1992. But the four-point national increase from last quarter, along with a positive trend in several key sectors, is cause for some cautious optimism. Despite the end of the furlough scheme in October and signs of a resurgence in the virus in some areas, employers expect the UK jobs Outlook to be tentatively heading in the right direction as 2020 ends."
The main bright spots among the sectors for Q4 are utilities (+4%) and agriculture (+8%) – the only sectors in positive territory. Elsewhere there are indications of progress. While still low compared to historic norms, finance and business services saw a nine-point upswing to -7% this quarter – its biggest quarterly bounce since 2005. Manufacturing and construction are up sharply, from -14% last quarter to -7% in Q4. In contrast, two key sectors stand out for their continued weak performance. Transport, storage and comms is languishing on -17%, up slightly from -21% in Q3, but still very downbeat. Retail, wholesale and hospitality remains on -10%, an equal all-time low.
​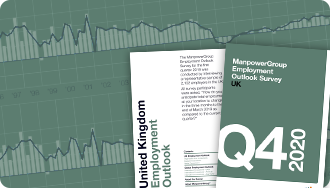 ManpowerGroup Employment Outlook Survey Report
​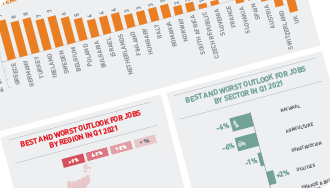 ManpowerGroup Employment Outlook Survey Infographic
​
​
​